2 star Restaurant
Le Pavillon
in Bad Peterstal-Griesbach
Serving refined culinary delights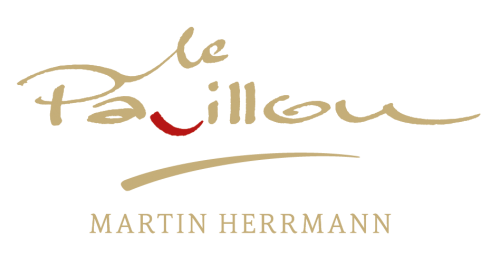 What forests, fields and meadows give us in outstanding quality is enhanced in our kitchen in the 2-star restaurant Le Pavillon with masterly fine culinary art. What presents itself on the plate as a sensual composition of colours and shapes, scents and textures like a small work of art, becomes a perfect taste experience on the palate. Highly acclaimed by all renowned restaurant guides, the Dollenberg cuisine is one of the best in Germany.
Even as a chef's apprentice, Martin Herrmann attracted the attention of the hotel patron and chef at the time, Meinrad Schmiederer, with his subtle creativity and craftsmanship. For two decades now, Herrmann's 2-star cuisine has magically attracted gourmets from all over the world. Welcome to the gourmet heaven!
Results of the MICHELIN Tester
"Outstanding products, perfectly presented by a talented chef and his team with a lot of know-how and inspiration in subtle, extraordinary and sometimes original creations. This is where classic cuisine gets just the right dose of modernity!"
The MICHELIN tester
"The service is excellent and excels with absolutely excellent wine advice!"

The MICHELIN tester
Table reservations & opening hours
Telephone: +49(0)7806 / 78-0 
Opening hours:
Thu-Mon 6:30 - 9:00 pm
Closed on Tuesdays and Wednesdays
Company holidays
We will be on holiday from 06.03.2022-23.03.2022, from 09.06.2022-06.07.2022 and from 26.02.2023 - 05.03.2023.
Holistic pleasure experience in "Le Pavillon"
Architecture, decoration, music and light – everything unites in perfect harmony in our elegant French restaurant "Le Pavillon" here in Bad Peterstal-Griesbach to celebrate pleasure. The natural scenery though the floor-to-ceiling windows provides the most beautiful backdrop imaginable.
Christophe Meyer - Sommelier of the Year 2014 - is responsible for the acknowledged excellent wine accompaniment and head waiter Francois Ritter, who was voted best in his field in Germany a few years ago, for service with expertise and charm.
Our gourmet offers
Perfect holiday offers for your gourmet holiday