Heavenly oases of peace:
Superior relaxation
Sweet nothingness on a holiday in the Black Forest
The peace and the sweet tranquility, the "dolcefarniente",  at the Hotel Dollenberg are wonderful. It even feels a bit like Italy in the Black Forest when you are lying on the cozy lounges under palm trees by the pool and simply enjoying life.  And you can do it offten on your holiday in our 5*S resort. 
Attentive service staff will fulfill any of your wishes for refreshment or delicious snacks in no time at all. Above the world, removed from time in the most pleasant way: That is the superior relaxation at Dollenberg - with a total spa and wellness area of 5,000 m².
Relaxation rooms: With fireplace, water lounges, and Black Forest Panorama
Atmospheric relaxation rooms allow you to enjoy your rest in style, even indoors. Daydream, read, let your eyes wander over the valley ... in harmony with yourself or enjoying the closeness of your partner.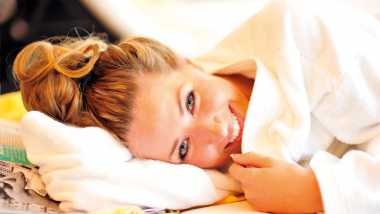 Swiss stone pine relaxation room
Tiled stove and light Swiss stone pine wood create a very cosy atmosphere. You will rock gently on waterbeds, listening to wellness music over headphones ...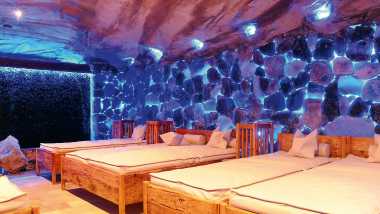 Blaue salt lounge
Blue salt stones on the walls, water trickling down wooden sticks, the whole room bathed in blue light: simply magical, the atmosphere in the Blue Lounge ...
Fireplace room with library
Fire crackles. Browse through a book or enjoy the picturesque view over the outdoor pool and onto the Black Forest and the sky ...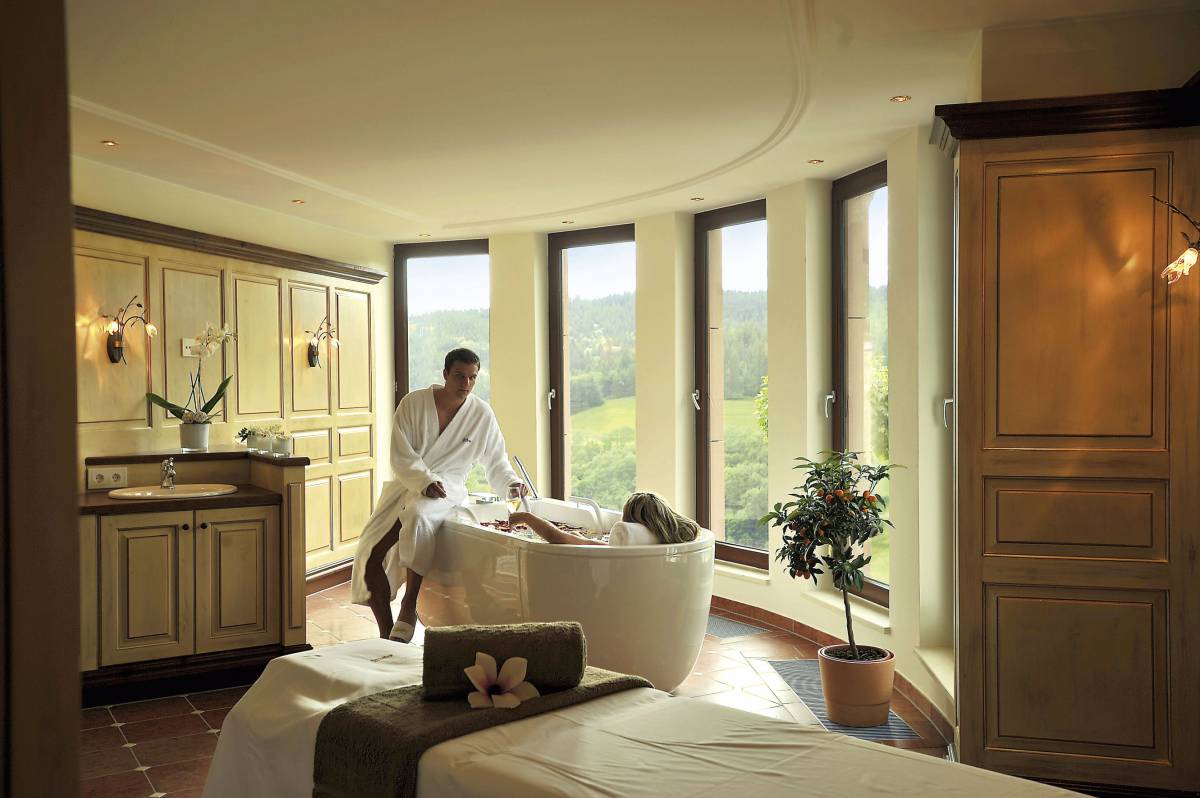 Wellness suite: Your private relaxation oasis
Would you like to enjoy a wellness experiene with your partner or best friend? That's exactly what our "Cleopatra" and "Romantik" wellness suites are designed for. The suites are equipped with a bathtub for two or a hydromassage tub, a steam bath or a dry sauna – with your favorite aroma fragrance for the infusion – and a water or canopy bed. Pamper yourself with the highest level of wellness comfort including fantastic couples treatments ...

Book an arrangement for our wellness suite